Reiki 1 sets the foundation for your practice. Right now, I'm taking sign-ups for Reiki 1 in Wichita on September 22, 2019 at White Dove. You can sign up for that and other classes (if you're finding this blog at a later point in time) on the courses page. I'm working on adding dates beyond 9/22 for Reiki 1, 2, & Master classes in Wichita.
I encourage you to take your time as you begin your Reiki journey.
You don't have to complete all the classes in a certain amount of time; this isn't academics. In Reiki, we learn by doing. I've begun to move away from talking so much about Reiki background and history in the classes I teach for this reason. You'll want to practice Reiki on yourself for some time between Reiki 1 and 2. Most people have some apprehension to get past before they ever lay their hands on others to channel Reiki energy to them.
Some of this comes from our culture in the U.S., which isn't very touchy-feely. Some of that is just having good boundaries and that's not a bad thing! Practice makes…practice. There is no such thing as "perfect" around here. I'm a Reiki Master, but the mastery is continual. There is always more to learn.
The main things you'll learn in Reiki 1
There are a few main things you'll learn in Reiki 1 class — some theory, the symbols, and traditions. You will also receive your attunement for Reiki 1. The attunement passes the lineage of Reiki down from teacher/Master to student. My lineage I pass down to you is in Usui Reiki. There are so many types of Reiki now, but it's all Source Energy. I have yet to try Karuna or Holy Fire Reiki. I have not been called to these yet. I have been called to receive the energy of Seraphic Spheres, which I use in my Reiki sessions (but don't teach). I also have begun learning Reiki in the tradition taught by Frans Steine to my Reiki Masters, who, in turn, have handed down Shoden Level 1 to me.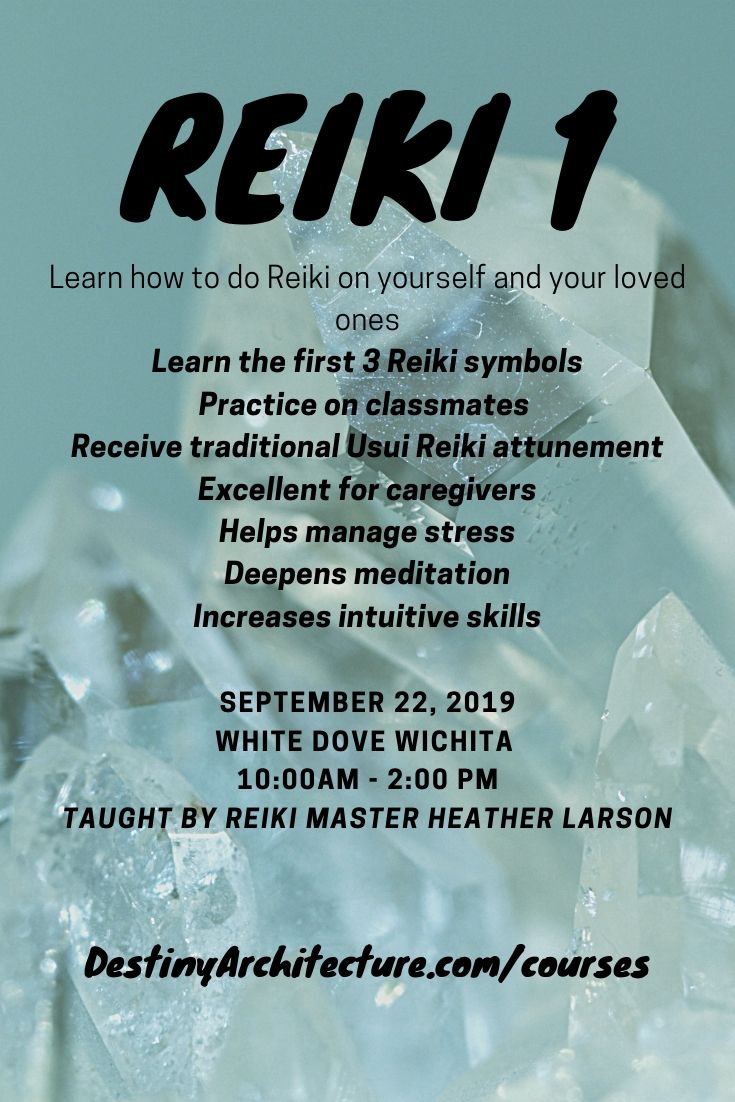 Learning energy work opens up your psychic channels or intuition. You begin to grow spiritually!
What you can expect in Reiki Class
The first thing I'll want to know about you is why you want to learn Reiki. It's such a great thing to learn! Reiki 1 gives you the ability to do self-Reiki and to practice on your loved ones. It also gives you the foundation for Level 2 and Master Level Reiki classes. Receiving the energy attunement is a wonderful experience. If you love receiving Reiki — you will LOVE it! Expect to receive Reiki energy and blessings in class. You'll receive hands-on instruction so you can leave ready to practice on yourself and others. We'll talk about protecting your energy field and cleansing it, too.
What you can expect in the world of Reiki
In a word, meditation. So much of Reiki is built around meditation. Reiki gives you meditation practices. It's fine if you've never meditated before — Reiki will get you started. Reiki Masters and practitioners often hold Reiki shares in which several people get together to exchange Reiki. Some get into starting a Reiki business, some don't. There are a million Reiki books you can read and ways to practice. Most of us who practice Reiki somehow get into more lightworking and art. Reiki people tend to be artists, writers, and other creatives!
If you have questions, use the form below to ask and I'll get back to you!
~Heather Larson
Certified Transformational Life Coach & Reiki Master